Toronto Comics Art Fest is this weekend! TCAF is one of the best comic festivals in the world and I'll be debuting a new book and live drawing game show!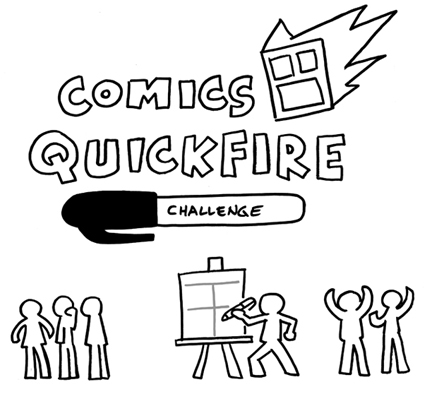 Comics Quickfire!
Location: Toronto Reference Library, 2nd Floor:
Appel Salon, Novella Room
Part drawing jam, part fast-paced game show! Volunteers from the audience are paired off with (or against) professional cartoonists in a series of fun-filled drawing challenges! All attendees of the Comics Quickfire are encouraged to participate, even if they can only draw stick figures or make silly suggestions. There a separate showdown each day with totally different participating cartoonists!
SATURDAY at 1PM with:
Raina Telgemeier (SMILE), John Green (Teen Boat!) Bob Flynn (Heeby Jeeby Comix) Collen AF Vennable (Guinea Pig, Pet Shop Private Eye), Rosemary Travale (Life Meter) & more!
SUNDAY at 1:45 PM with:
Jennifer & Matt Holm (Babymouse), Andy Runton (Owly), Katie Shanahan (Flight) & Kean Soo (Jellaby)!
It's the convention "launch" of Teen Boat!
Saturday at 3:45pm
Location: St. Paul on Bloor, 227 Bloor St. East
Friends Dave Roman and John Green have worked together on all kinds of projects, including Nickelodeon & Disney Magazines. Now they've created their own new graphic novel: TEEN BOAT! It's the angst of being a teen, and the thrill of being a boat! Join the creators for the launch of the graphic novel at TCAF! Everyone will receive free Teen Boat! party buttons!
Spotlight: Explorer The Mystery Boxes
Sunday May 6th at 2:45pm
Location: Toronto Reference Library, 2nd Floor:
Appel Salon, Novella Room
Join the creators of Explorer: The Mystery Boxes: Kazu Kibuishi (Amulet), Jason Caffoe (Flight), Stuart Livingston, Raina Telgemeier (Smile), and Dave Roman (Astronaut Academy), as they read their stories live on stage, with a little help from the audience!
And of course, I'll be sharing a space with John Green and Raina Telgemeier. Come say hello at table #265. Here's where we are on the official map!
Mirrored from it's yaytime!.